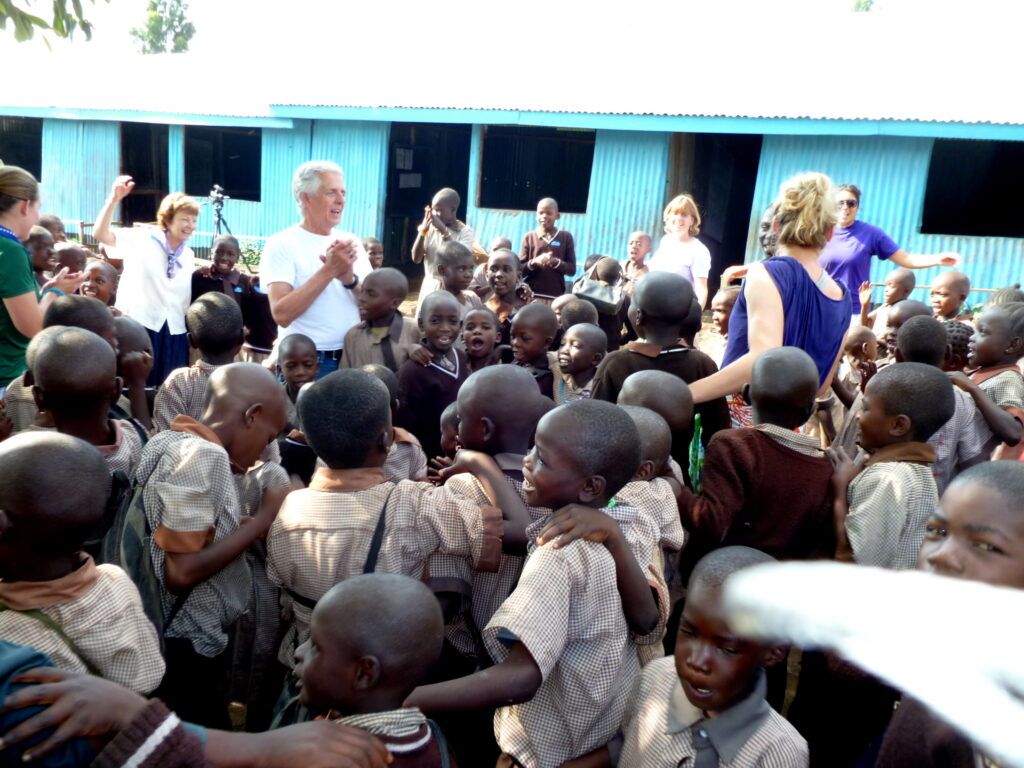 Last night Chris shared about how the 12 Steps provide a regimen for healing through surrender to God (Higher Power) and through the processes of confession and of making amends with those we've harmed (or sometimes, those who've harmed us).  It was a very powerful teaching for us all.
This morning we talk about the importance of this first day at Achungo and of our attitude, of our suspending our expectations and plans, that we will make our greatest contribution if we focus on just being there with the children and with the teachers, just listening and watching and learning, before presuming to show them or teach them or enrich them with what we have.  This culturally humble approach will serve us well in the days to come as we develop mutual respect for the teachers and collaborate with them on all our plans.  Leveraging Chris' talk from last night, we talk about how our greatest opportunity for joy comes as we surrender our willfulness.  Remembering how our servers at each meal bring a wash basin to our table for each to wash hands, we reflect on Jesus model of service (the greatest teacher washing his students' feet) and on how critical it is for us to subordinate our preconceptions (who we are, what we can do, how we can help, the resources we can provide) and focus on what God is doing around us and in us … listen and observe and then, participate in what we see.  If our primary focus is just being with them, we will find our contribution will turn out to be incredibly valuable in unexpected ways.
Our day begins with a great breakfast buffet (pronounced "buff-ett") including fresh pineapple, papaya, bananas, as well as eggs, bread and jam with tea, coffee or milo (ovaltine-like) and incredibly flavorful fresh juice (they guarantee us they boil the water).  Then Michael comes to the hotel to escort us to Achungo to meet the children.  But first we must meet the staff.
We gather in the small office (I like to call it the faculty lounge) with all the staff in plastic chairs rented for our visit.  Headmaster Paul hosts, gives us an official welcome, introduces Michael for his welcome, and then each of the staff, before passing the rhetorical ball to Monte and the team.  Michael shares his vision and talks about growing up an orphan and deciding that he needed to do something for the orphans of this area.  Achungo is founded on the premise that a nation's health is based on the well-being of its children and on the desire for them to have the care and education to be able to live rewarding, productive lives.  There are many orphans in this area, maybe one thousand, and as they provide for these 110 now, they hope to help many, many more in the years to come.  After Monte's introduction of the team and some words from Julia and other team members, we move outside to meet the children (at last!).
The Welcome
We adults move our plastic chairs outside facing the children who are sitting on the ground under the shade tree, and we receive their welcome.  They sing songs ("We welcome you to Achungo….please enjoy yourself"), and then small groups arise to recite poems, perform skits and dances, and extend their welcome.  On Paul's invitation, Monte gives a brief greeting and introduces the team to the children.  It is all very sweet and entertaining.
The Balls
Our first activity with the children is to bring out some of the balls and take them to the nearby field that they use as a play area (there is little space on the tiny campus).  Meg and others are in the office pumping up some of the new balls and when she emerges with 2 new soccer balls in her hands, we hear a shout of spontaneous exaltation from the multitude of children.  Their athletic department (for 110 children) has consisted of 2 very old, somewhat flat balls and 6 jump ropes.  We soon learn that based on their experience of extreme scarcity (some might say, deprivation), they have nothing but utmost appreciation for any little new thing.  Off we go the The Field to play ball games, duck-duck-goose, and every other sort of game with these exuberant children.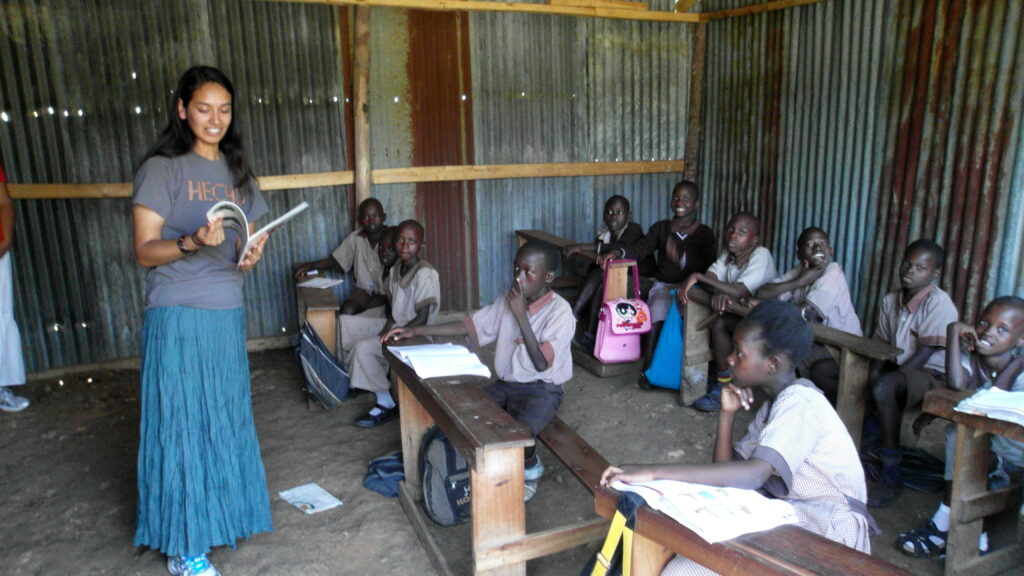 The Books
We've brought over 150 storybooks (there were none previously — not in the entire school and certainly not in their huts).  On our return from The Field, we identify them by grade-level and give piles out to each of the team members to take to an assigned class.  Each of us accompanies an Achungo teacher to their class and works with them to first read to the children and then to set up table groups for them to read on their own.  English is their third language and we soon learn that as intent as they all are on their reading, and although from at least 2nd grade on, they do a great job of word pronunciation, their comprehension is behind what we expected.  I suspect my 2nd grade Spanish reading comprehension would have been a lot worse (understatement!).
The Stories
After lunch, the upper classes engage in storytelling and delight our team with imaginative and often elaborate stories.  The favorite ending for the boys seems to be "and then he became a pilot."
The Team
That evening I marvel at this team and the talents and energy they each demonstrated today:
Julia, Meg and Clare — incredibly energetic and creative, teaching the kids all sorts of new games
Ron — where does he get his energy and enthusiasm?  the kids just flock around him as he plays with them ("buzz–I'm Rrrron the bumble-bee")  and listen enraptured as he dramatizes a storyreading
Julia — always creating, she develops a math lesson using toy cars that is a huge hit.
Chris — the architect, he meticulously diagrams our proposed electrical system, plumbing system, desk design, and when nothing else is going on, jumps in to give a computer lesson to whatever staff are around.
Ana and Drea — every time I look they are completely absorbed with children (and the children with them), whether on the field or in the classroom.  They are Teachers!
Kathy — the researcher, observing classrooms and teacher methods, planning ahead (always!) for new ways we can help or resource
Susan — (aircraft designer) is fully engaged in her classroom, reading, listening, intently connecting with the children
Suney — quickly emerges as our leader, our teacher, and always ready to organize a song or lead us into "here's what we can do now"