While most of the team spend the day in classes with the teachers and children, reading, teaching, doing games, etc. (and someone else will have to fill in that detail….), Chris and Monte spend the day shopping with Michael.  We start at the Rodi lumber yard shopping for materials to build new desks.  Chris has diagrammed out a modification of their desk that has more support and a larger desktop (8 inches as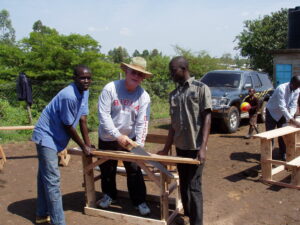 opposed to 6).  We help the lumberman figure out which rough lumber to use — he takes 8 inch and rips it for the 2-inch pieces and then planes one side of each of our pieces.  Actually, he just figures all that out — ripping, cutting and planing will have to wait as the power is out for Rodi.
Next stop: Homabay.  We make several stops and purchase glass to repair the office windows plus glazier's putty and a putty knife, shovel, blackboard paint and paintbrushes and sandpaper, and school supplies–pens, markers, poster paper, exercise books, chalk, textbooks (to replace those Kathy wants to bring back), de-worming medication, and other stuff that I've forgotten by now.  We are unable to find 1.25 inch pipe and valves to fix the water system.  But otherwise it feels like we've gotten a lot done.
On our return, Kennedy and Charles immediately begin repairing the windows.  I'm realizing that they can help themselves with many things but just lack the tools.  We need to get them 2 pipe wrenches so they can do their own pipework.