From all across America we gather.   To be more precise, we have teams leaving from San Francisco and from Baltimore and the first time we would ever meet them was to be at Heathrow on our way to Nairobi, and the first time the entire team would be together was not to be until Nairobi itself.
Only 7 of us (Kathy and I and Suney, and the Sullivans: Julia, Chris, Ana and Drea) were leaving together from SFO, but even at that, it takes us a while to all gather what with delays in our rides.  And then our first major obstacle:  only those on the original ticket with Monte (i.e., Kathy and Suney) can take advantage of his Gold Card with American and take 2 bags, so we have to pay for 4 extra bags!  Ouch!  But we are not going to leave behind all the books, games, clothes and shoes that we are bringing to our Achungo children.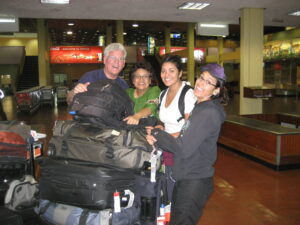 After some trouble getting through security (in our frenzy to avoid paying for it as a checked bag, one carry-on has liquids and that means going back through check-in again), we finally make it to our gate and then to our plane to L.A. and after a plane change, our overnight to Heathrow.  (This is getting to be a long trip already!)
The master plan in Heathrow is to meet our Virginia contingent (Julia, Meg and Clare) and also Susan (flying Virgin Atlantic on miles) in Terminal 3 at EAT restaurant (seems like an obvious name and a handy meeting place, right?).  Our American flight disembarks at Terminal 3, but just so we don't keep things too simple, we actually have to get our Kenya Airways tickets at Heathrow (American couldn't issue them).  And that means going to Terminal 4 (via the long walk, the escalator and the tram).  Then when we try to go back to Terminal 3, we're told we can't get past security because our tickets are for Terminal 4.  We've managed to make text contact with Susan from Terminal 3, but eventually we all just give up on getting together.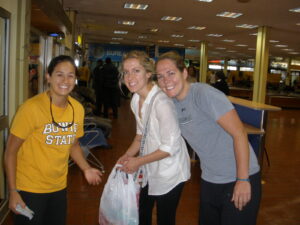 But the "Virginia Girls" must be here in Terminal 4 — they're getting on the same outbound as we are!  I'm starting to worry as I look around.  We grab a bite to eat and then head to our gate — no VGs there.  Woops, gate change.  We get to our new gate with about 30 minutes before boarding and I finally spy 2 women looking like they're looking for someone and it's them!  Reunited for the first time at last!!  Hugs all around and then, it's time to board.  So much for all the "get acquainted time" I'd planned for Heathrow.  Chalk it up as  "Monte's miscalculation number 99."  I think we need to find someone who knows what they're doing to lead the next trip!  (at least that's Monte's opinion)
Another long night on a plane and we land in Nairobi.  Now if we can just all make it through immigration and get visas without a snag, and  if Ron (who stayed overnight in Nairobi, having arrived earlier) and Susan (whose plane arrives an hour after us) can just find us and then the safari van drivers arrive in a timely fashion and all our luggage make it and …..  Will wonders never cease — it all comes together and before toooo long we're all in our 2 vans with the third loaded with our 24 bags and we're off to Masai Mara!  Wasn't that easy, though?