It's a miracle!  We all made it to Nairobi without delays and we are finally together!  Ron had arrived a day early and met us in the airport.  Susan's flight made it with only a slight delay.  At last we are together and on our way to a Safari (a SAFARI!).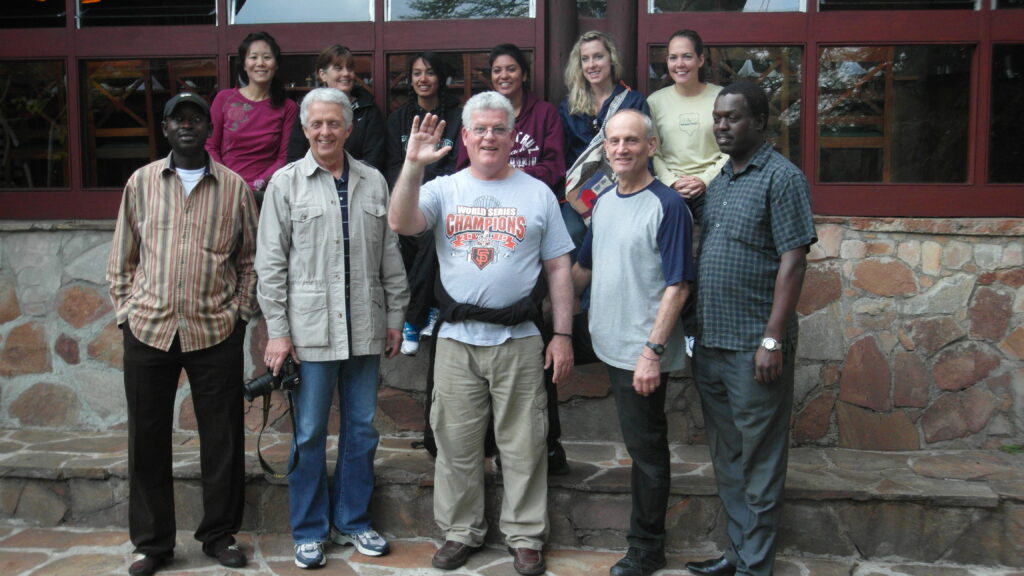 It takes us about 1/2 hour of eating exhaust (driving behind "lorries" as we now call large trucks) before we get out of Nairobi, but the roads are good.  After about another 1/2 hour or so, our appreciation for the road quality degrades and soon we're on rough road.  After an hour of potholes, we suffer another hour of potholes, and another hour of potholes, but finally we transition onto….(wait for it)….dirt roads!  It seems like we're driving the entire continent of Africa.  It's wearying.  A few are dozing but that's not easy since we're all sitting in vibrating chairs that never turn off.  It's starting to really feel tiring when the call goes out:  ZEBRA!  And we discover that we're getting close to the animal park.  Dotting the hills alongside the road we can now see pockets of zebra and an occasional lone wildebeest (it's a shaggy, skinny cow with a long goatee).  And we are awakened with excitement and anticipation.
After thousands, maybe hundreds, of hours of travel (okay, a day and a half), we finally arrive at our tented resort: Sarova Mara.  Our rooms are luxurious half-tents, half-cabins with full bathrooms and wonderful beds.  Beds are places where you can actually stretch out with your legs fully extended.  You can completely relax on a bed.  In fact, they are perfect for sleeping.  I discover that beds are nothing at all like the airplane seats that I've spent the last 2 nights sleeping in.
Lunch-time!   The Sarova serves up a delightful, highly varied and somewhat exotic buffet for every meal in a lovely dining room.  We are escorted to our designated table and have the best meal we've had in days (or has it been weeks?).
After a break, we head to the vans for a late afternoon safari.  Up goes the van top so that we can stand up and look out at the wildlife.  And there's a lot to see, as it turns out.
In a few hours of whipping around on the dirt roads and tracks, we end up encountering a zoo-full of exotic animals:  huge herds of zebra, gazelles of all sizes (from tiny Dik Dik and Thompson Gazelles to graceful Impalas and Giant Elands), elephants in small groups, a handful of warthogs snorting and scurrying, and a full pride of lions.  Lazing about are 2 males and at some distance 3 females with 7 cubs (guess the men don't get involved in childcare?).  And we come upon 3 cheetah laying in the grass on a hillock — each are laying quite flat with only their head raised, each with gaze fixed on a small herd of gazelle grazing on the next hill over.  They do not move, they don't even twitch, they just keep their focus on dinner, waiting for their chance to burst from zero to 60 (in 3 seconds!) in pursuit.
It's been quite a day.  As we wait around that evening for the restaurant to open for supper, a troop of red-clad Masai arrive and put on a jumping dance.  Michael Jordan's air time has nothing on them!  Maybe the NBA needs to put in some cement courts around here and build up their international recruiting?