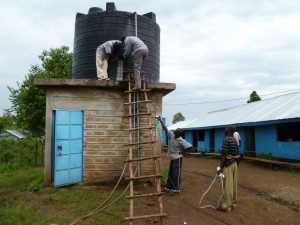 Today Michael and I have planned a trip to nearby Homa Bay, mostly to check out the market (their market day is Wednesday). I want to survey nearby markets for a couple of reasons. First, to help me understand some of Achungo's costs; and secondly, to learn about possible opportunities for us to earn some income (are there agricultural projects that would be worth our while?). I'm also interested to see if there are any handicrafts sold – anything that might be attractive to buyers in the U.S.
But something has come up to delay our trip. After I arrive at the school, Michael calls me outside the office, introduces me to 2 men, and tells me that the water tank has some holes that need fixing. When he learned that these men were nearby and doing plastic patching of water tanks, he jumped at the chance. There's a small hole about halfway up the tank and Michael is worried that the leaking mineral salts will erode the cement and masonry of the water tower. The larger hole is at the top of the tank and although we can try to avoid filling it that high, Michael said bees get in during the dry season and drown and cause the children much distress when they come out the water taps. When I probe a bit, he tells me that when Living Waters, Nairobi installed the tank, they actually dropped it and that might have caused that tear at the top. All eyes are on me – I guess it's up to me, especially since I'm the only one who can pay for it.
He tell me they want 2,500 shillings to fix it. I put on my "due diligence" hat and ask them some basic questions: Where else have they done similar repairs? How long will the fix last? Aside, I ask Michael what he thinks of the price and he says Ksh 2,000 should be enough. I tell him it is up to him, seems worth doing as long as he is confident in these men. Outside he talks to the man a bit more, negotiates him down to Ksh 2000. Soon he turns to me and says it is time to head out to Homa Bay that that we will pay the men ½ now and ½ tomorrow after we are sure the leaks are fixed. I give him the money as covertly as possible, he gives it to Headmaster Paul and off we go to Homa Bay. This experience is just one of many that give me a lot of confidence in Michael, as opposed to some of what I've heard about "working with Africans."
A few more surprises are in store before Homa Bay. Michael had mentioned a friend with a garden as well as a CBO ("Community-Based Organization") that we might want to visit and I soon realize that he means today. The friend, George, has a daughter (Peggy) at Achungo and he has been doing some experimental gardening over the past 3 years. He shows us his "nursery" for ornamentals – hibiscus and coleus-type plants that he is growing from cuttings off of a few plants he purchased (he sells them to hotels, schools), also passion fruit and pawpaw (papaya) that he's grown from seed (he sells the seedlings). He tells us pawpaw produces after the first year and he has a 6-footer with big fruit that he said is 1.5 years old. He has purchased a fan palm to see if he can get it to seed. He's growing bananas and some sugar cane and plans to get more land as he develops sprouts from these plants. Michael has brought me because he knows I'm investigating possible enterprises for Achungo. Maybe we should think about a nursery?
George also shows us his vegetable garden: beans, butternut squash, onions, tomatoes, kale, maize (a drought-resistant variety). He's cross-bred his Brahma bull to get a faster growing, stronger hybrid. Seems quite the entrepreneur. Michael likes his hard work and creativity (tells me that unfortunately a lot of people aren't willing to work hard enough to be successful).
Our next surprise stop: Ogande Primary. The government school has 500 students and nearby, associated secondary schools: "Ogande High Girls" (800) and "Ogande Mixed" (i.e., coed with 300 students). I'm wondering why we're here when Michael introduces me to the Old Mockers Youth Group – an "Organization of Self-Help Group" CBO with 20 members between 18 and 35 founded in 2006 when a group of them decided that rather than just talking about how bad things were they should try to do something. They show their CBO certificate from the Ministry of Gender, Sports, Culture and Social Services – Department of Social Services, Homa Bay. (I'm not making any of this up)
After introductions, their Secretary shares with us that their goals are to engage in activities related to HIV/AIDS, poverty eradication and community development, with a secondary purpose of empowering orphans. But they haven't begun activities yet on that last one. I'm starting to wonder how much of this is boilerplate. Their primary activities are training and fundraising and they are raising dairy goats and kale and pineapple for income and also hold seminars and are looking at other businesses. Next he explains that they need funds and are especially interested in starting work on their project to "empower orphans". (Now I wonder if I've been set up)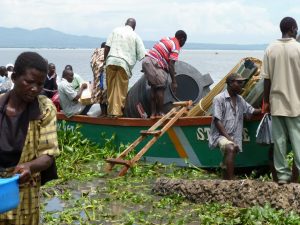 Michael speaks next, introduces me and my role and explains that he thought I might be interested in what they are doing and that I also talk with various NGO's. He tells them he is pleased to see a group willing to take some action and not just talk. And I guess it's my turn –no use stalling any longer. I try to encourage them, tell them I'm impressed with their efforts to help others, that it is much more rewarding when we are not just living for ourselves. I tell them the NGOs I've talked with are only looking for handicrafts that are already in production and that I have no funding myself for Achungo's orphans. In the end they ask about "youth groups" in U.S. and if any might correspond with them or visit them, so I invite them to send me a detailed description of their group, activities and interests and I'd see what I can do.
Soon we make our goodbyes and finally head toward Homa Bay. Turns out it's very close to Rodi, maybe 6 kilometers (4 miles), but the tarmac road is so torn up for the last few miles that you're essentially driving in and out of potholes constantly at about 5 mph. It is the nearest town directly on Lake Victoria and has a trade on the lake – small pole boats (20-footers) that ply the lake shore. The shoreline is an overgrown bog filling up with hyacinths, so the boats just pole their way between villages. There are 3 unloading/loading while we are down at the "docks". One is carrying mattresses among other things. One would-be passenger convinces the boatman that he isn't going to mess up his shoes and clothes wading through the bog and the boatman picks him up in his arms and carries him to the boat as an extra service.
Homa Bay open market area is larger than Rodi's, but pricing seems about the same. A grain-seller explains to us that prices have dropped precipitously in past month as new harvest becomes available. I want to price printers and cartridges, so we stop at the local "internet café." It's a tiny shop that has 4 cubicles with desktop computers but the power is down! Cost? Ksh1 per minute or about $.75/hr.
We get back to Achungo as the school day is ending. Richard has asked me to give the teachers some computer training, so I stick around after the children have left and spend an hour and a half talking through an overview of computer hardware, configuration, OS, applications, and then a briefing on Microsft Office applications. Just glad I can be helpful.