It's Monday – school day and I get to spend my first full day at the school!
School day begins at 7:45-ish with an assembly around the flagpole – children cluster in their class groups and are very orderly. First up is inspection by the teacher-in-charge: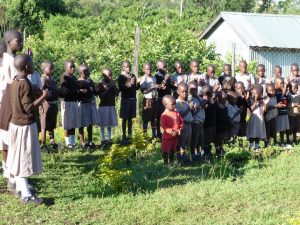 · Does everyone have clean necks?
· Socks on and clean?
· Proper shoes (no plastic boots, at least unless it's a muddy day)?
· Generally clean and orderly uniform (though many are quite torn or ill-fitting)?
Those who miss the mark are called up to stand before the group and be scolded.
That accomplished, it's time for the flag raising in military style (a little marching of the "scouts" — the flag brigade that has various ages among the 8 members) accompanied by everyone singing the national anthem.
Next up, Headmaster Paul has a few words of greeting and encouragement and Mr. Richard (or Mr. Eliakim, if it's his turn), leads the children in a devotional song and recited prayer (with hands over faces). And the children are off to their classes.
For a few hours this morning, Mr. Richard helps me take individual pictures of each of the students present (97 present, today). Then, I take lunch with the teachers. We eat the same food as the children once all the children have been served. Today is red beans atop a mountain of white rice and we eat with spoons. Below is the typical week's menu (no spoon on ugali days).
| | |
| --- | --- |
| Monday | Rice and beans |
| Tuesday | Kale, Ughali, sometimes tiny herring |
| Wednesday: | Githeri : Maize and Bean Succotash |
| Thursday | Rice and Cabbage |
| Friday | Kale, Ugali and meat |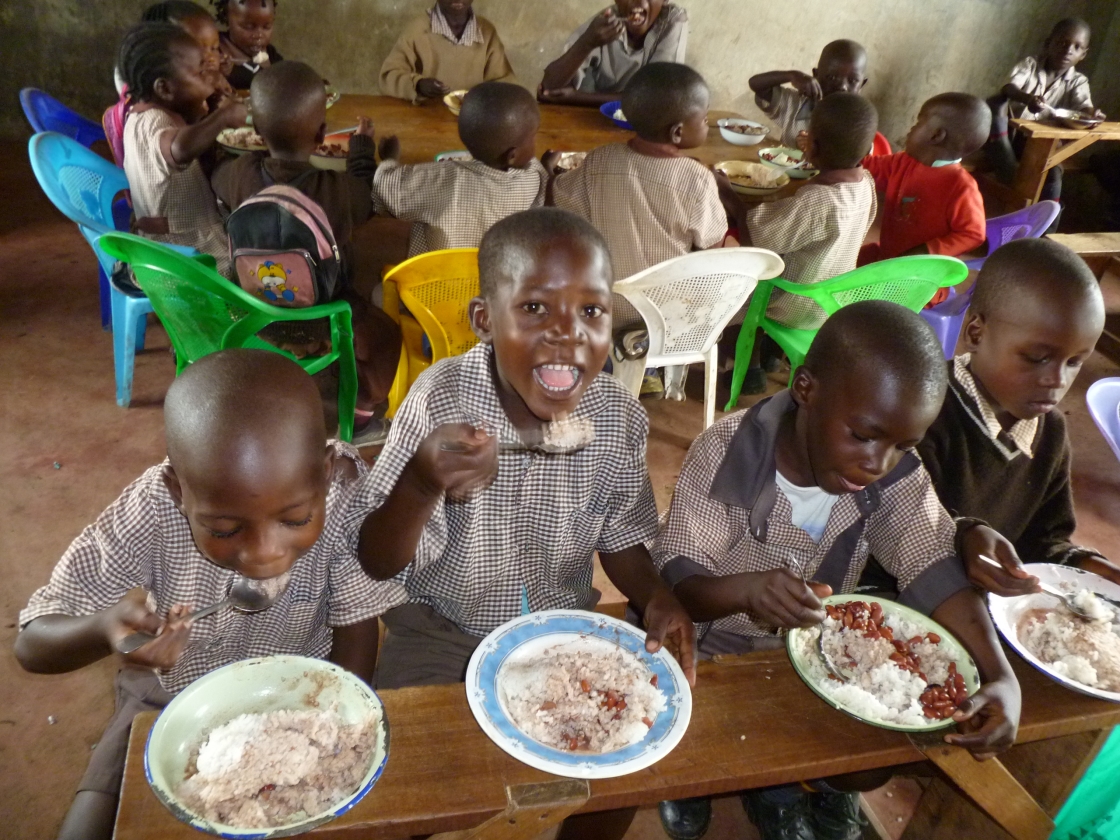 Ugali is the polenta-like standard starch of East Africa — typically made from maize, sometimes with some dried cassava mixed in, or the brown variety is from millet and sorghum (and is highly nutritious).
After lunch Michael and I looked at some nearby land whose owner he says is motivated to sell (has one of his children at Achungo!). The only land we own right now is way too small; there's no way we could add grades or showers or anything else, and very little land for the children to play even. These 3 other lots add up to about triple the current lot and sound very reasonable in price – maybe totalling about what we paid for the current lot (sounds like a 70% discount?)!!
I began to see a God-sized vision for Achungo with the possibilities that could be opened up with this added land. This would make all the difference for these kids and transform Achungo from a few years of schooling and care to a real start in life that gets them through 8th grade—the critical milestone that could put higher education within reach and give them the opportunity to leap ahead economically. Hmmm!